PRAYER
Pray without ceasing (says the Saint)
Nor ever in the spirit faint;
With grace the bloom and faith the root,
The pray'r shall bring eternal fruit.
5 When the great Seer sad news did bring
To Ahab, e'en that wicked king!
Hear what the word of mercy says,
Spare thou the man, "behold he prays".
Our hopes Christ Jesus to elate,
10 Has bid us be importunate,
And with the bustling widow vie,
That triumph'd over tyranny.
'Tis peace, 'tis dignity, 'tis ease,
To bless the Lord upon our knees;
15 The voice and attitude of fear,
For God's own eye, for God's own ear.
Christ Jesus when the Twelve besought
His aid, the PATER NOSTER taught;
By giving glory we begin,
20 And end in deprecating sin.
Then give the glory yet again,
For who wou'd be in grief or pain,
Or brook anxiety and care,
When the quick remedy is pray'r.
by Christopher Smart ***
***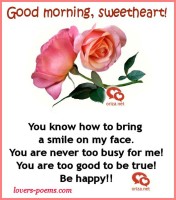 ***